Make Money Online, Join Affiliate Programs South Africa...
Always dreamed of making money online and weren't sure how? Well if you have a website or blog that gets visitors you can make money from it by joining an affiliate program, placing banners and/or links and then earning a commission per sale, lead or for every click. Joining is free and there are many different categories to promote, whether you have a fashion blog and want to sell clothing, a finance site like this one for loans or a travel site for hotel comparison. Sign up today and find out how an affiliate program can help you make money online easily. Remember you can sign up with one or all of the programs listed below and compare your advertising options to find the right ads to match your site content.
Affiliate Network
Looking for an affiliate network to join in RSA? Affiliate Network offers a range of programs mainly related to loans and other finance in South Africa and you can easily sign up and browse what is on offer. At the time of writing offers include personal loans, vehicle finance, comparison home loan quotes, bad credit cell phone contracts, free fax to email, medical aids comparison and more. Payout is on time and you get a comprehensive dashboard with links, banners and reporting. If you have a website or blog and want to start making some money online why not sign up today and see how they can help - visit www.affiliatenetwork.co.za
MageNet
Do you have a website or blog and want to make some extra money without placing banners? Selling text links on your website could be an idea and MageNet makes it easy for just about anyone to start getting paid to place links on their website or blog. Simply sign up and you will be able to start placing links, either manually or via an automatic placement plugin. You will get paid for the duration of time that the link is displayed and not whether any clicks or sales are generated. You also have the option to reject link placement offers if they are not relevant to the content of your website. If you don't want to place banners or are looking to generate additional revenue along with banners then why not get more information or sign up today - visit www.magenet.com
Affiliate.co.za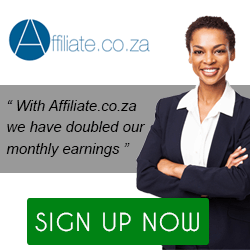 Another choice for affiliate programs is Affiliate.co.za which offers a very wide range of choices for advertising and you are sure to find something that matches the subject of your website or blog. This includes insurance, finance, online shopping, dating and more meaning you can place banners and links to sites that your visitors will find interesting and hopefully help you make money. Payments are made on a monthly basis, as with most affiliate programs, and they will do their best to help you get started in affiliate marketing in South Africa. If you are looking to join an affiliate program in RSA then there is a lot to offer, why not start making money from your website or blog today - visit www.affiliate.co.za


AdMarula
Another large affiliate marketing network in South Africa is AdMarula who work with many of the leading brands in the country. With a wide range of 'premium' advertisers they do have stricter policies and guidelines for acceptance and advertising. Once accepted to be an affiliate you can browse much the same range of categories including travel, e-commerce, insurance, finance, health and beauty, automotive and more. There are a number of programs on the network you won't find with other affiliate companies and if you have a high traffic website or blog then it is definitely recommended to sign up - visit www.admarula.com


OfferForge
Probably the largest and most well-known of affiliate networks in South Africa is OfferForge and they offer a wide range of options for advertising online. With many well-known brand names as well as smaller companies advertising on the network there is a variety of advertising content to choose from including comparison hotel search, shoe shopping, online florist, prepaid solutions, tax help and much more. The range of programs on offer does change though you are sure to find something to match the theme of your website(s) and make some money. The experienced affiliate managers will do their best to help you if you need it and with some high converting programs offering good commission structure if you are looking for a comprehensive affiliate program to work with then sign up today - visit www.offerforge.com

Cash loans up to R5,000 from Lime Loans...
Looking for a quick cash loan in RSA today, as in the next hour? Lime24 may be able to help and offer fast and easy online loan applications for amounts from R300 to R5,000. Applications can be completed online and in most cases you will get an instant decision within 5 minutes of applying. If your loan is approved you will be paid out the same day and as a registered credit provider in South Africa you are guaranteed easy to understand fee structure. If you repay your loan on time you may qualify for another loan and could get discounted loan rates, meaning you repay less. Don't waste any more time searching for a cash loan when you don't have to, apply online now - www.lime24.co.za


popular searches... best affiliate programs, top affiliate programs, advertise on my website, make money with affiliate marketing, make money online south africa, making money from affiliate programs, affiliate programs to make money, money making affiliate programs, make money affiliate program, what is an affiliate, how to make money with affiliate programs, make money affiliate marketing, make money affiliate programs, affiliate site, affiliate marketing sites, high commission affiliate programs, affiliate sign up, advertise on my blog, how to make money in south africa, money making opportunities south africa, making money online in south africa, how to start affiliate marketing, affiliate programs south africa, best free affiliate programs, free online affiliate programs, free affiliate marketing, affiliate programs that pay, how to make extra money from home in south africa, how to make money online in south africa, pay per click affiliate programs, top paying affiliate programs, making money with affiliate programs, make money with affiliate programs, make money with affiliate program